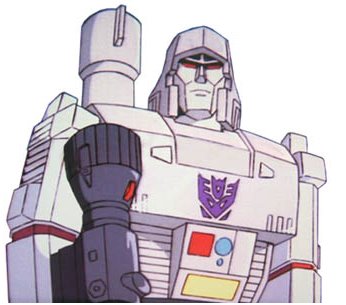 I had told myself I'd get this post written before Thanksgiving.  Well, it technically is Thanksgiving right now, but I still haven't gone to bed yet so it doesn't count, right!?
The last costume this year was Megatron from the Original Transformers cartoon.  He is head of the Decepticons (bad guys) and transforms into a gun.  You can see the Peter Pan costume I made here and the Tinkerbell costume here.
My oldest could not commit to a costume idea this year.  He changed his mind every hour.  Finally, he was pretty set on being Megatron.  I was really hesitant to do it because he only wanted to be the "old school" version and all the premade costumes from the store were for the newer cartoons.  And the DIY ones I was seeing were to be made out of boxes which would be too cumbersome.  But, I finally gave in when I saw these two versions here and here that looked more comfortable to wear.  I was so ready to just buy anything from the store though since the hospital time got us so behind but he had his mind set.
It wasn't hard to make but it did take a lot longer than I expected. I also ran out of duct tape the night before Halloween and then a big flood came and I was trapped at home and couldn't get to the store to buy more.
Let me pause here to say a huge thank you to Judy who saw me comment on Facebook that I wouldn't be able to get to the store to get the supplies I needed and within about 10 minutes delivered to my door foam, duct tape, and ribbon!  What a miracle she was!  The costume would not have been finished without her help.  I just couldn't believe she had the supplies I needed and happened to live on this side of the low river crossings.
The whole thing is made from foam, cardboard, duct tape, masking tape, hot glue, and elastic.
First, I made the chest and back pieces.  I cut two pieces of cardboard after measuring the width of his shoulders and the height of his chest.  I hot glued little pieces of  cardboard on it to give it dimension to give the appearance of buttons.  It also made the cardboard stiffer because the piece wasn't completely flat so it kept it from bending at the creases.  I carefully laid the tape down so as to minimize lines showing.  I put black electrical tape on the lines going vertically.  The red, blue, and yellow buttons are masking tape that I colored with marker.  I found an image from Google of a Decepticon symbol and put it in Photoshop to color it purple because it was originally black when I got it.  I used clear packing tape to put it on and keep it safe.

I ended up using the duct tape for the shoulder straps. It kept it very flexible and light weight. I put two pieces of tape facing each other and then taped that to the back of each cardboard piece.
I used an old tube from a paper towel roll and covered it in duct tape to use for the gun barrel that comes up behind Megatron's back. I put a bit of foam around the top and covered with tape as well just to add some interest and make it look less like a tube. It did make that side of the costume a bit unbalanced but it didn't lean too much as to be a problem.  As you can see below I also used smaller pieces of cardboard underneath the tape to create texture and make it look more robotic.  I just used more duct tape to carefully lay over the tube to hold it down on the back.
Next, I made the arm bands and legs bands. I wanted to give him a bit of a boxy look to make him look more robotic but not compromise his movement. At first my plan was to make the foam go all the way around his arms and legs so it would stay on easily but when I made the first one it ended up being too tight and too difficult to cover with tape. So, I tore off the back piece of foam and then just used duct tape and elastic to help hold it on. So, it wasn't as neat looking as my original version but it did the job and he liked it.
I measured the length and width of his arms and legs to figure out the size I wanted to make it all.  I then made a paper pattern so I could hold it up to him and test the size before cutting into the foam.  I traced the pieces with a sharpie on the foam and cut them out.  Next, I hot glued the pieces together.  The glue didn't want to stick at first but if you hold them together carefully while the glue cools it will stick.  The tape also doesn't like to stick very well to the foam but once it was overlapping with more tape it stuck well enough.  All of this was a bit of a surprise and part of what made the process take longer.
One tip on covering the foam with tape was to cover all the vertical edges and ends first and then use big pieces horizontally across the front and back to cover up all the little pieces of tape to make it look nice and neat.  It was hard to get it to cover corners well but I just cut the pieces of tape smaller and carefully laid them in place.
On Megatron's right arm is a big black barrel that I guess is the gun sight.  So I used another paper towel roll and covered it in black electrical tape.  I then laid about 5 strips of black tape across the barrel and onto the arm band to hold it on.  And then to hide that tape and to secure it better I laid duct tape going down the length of the arm.
I tested out a couple ideas for holding the arm band on and ended up using the duct tape again by laying two pieces on top of each other and then taping them to the inside back.  This helped hold it onto his arm well.  On the arm band with the scope I added a couple pieces of elastic but it probably wasn't necessary.  I also put a piece of elastic (the white one) at the top of each arm piece for him to put his hand around.  It started to come off on the one arm band during the Fall Festival so I just yanked it off and never put it back on.  I could've fixed it but didn't seen too necessary so I didn't worry about it.  That's why only one of them has it in the photos.  I also just noticed in the photos that his hands are pulled in a bit and hidden but normally they are sticking out so you can use your hands.
For the legs I ended up just making a front piece and a foot piece.  I covered them with duct tape and then used a strip of tape to attach the two.  That allowed it to hinge and just rest on top of his foot.  I thought about leaving the foot part off altogether, and in fact now that they just play with it at home we did take that part off just to make it easier for them to walk.  I ended up adding elastic but then tying to behind his leg so he didn't have to slip it over his shoes.  My original idea was to use gray ribbon but I didn't have enough of it and with the flood couldn't get more so I just went with what I had.  The perfectionist part of me just had to ignore that it was easy to see it.  Note: All of these pictures are showing the lines and layers of tape much more than in real life.  But it is helpful for seeing how I laid the tape down.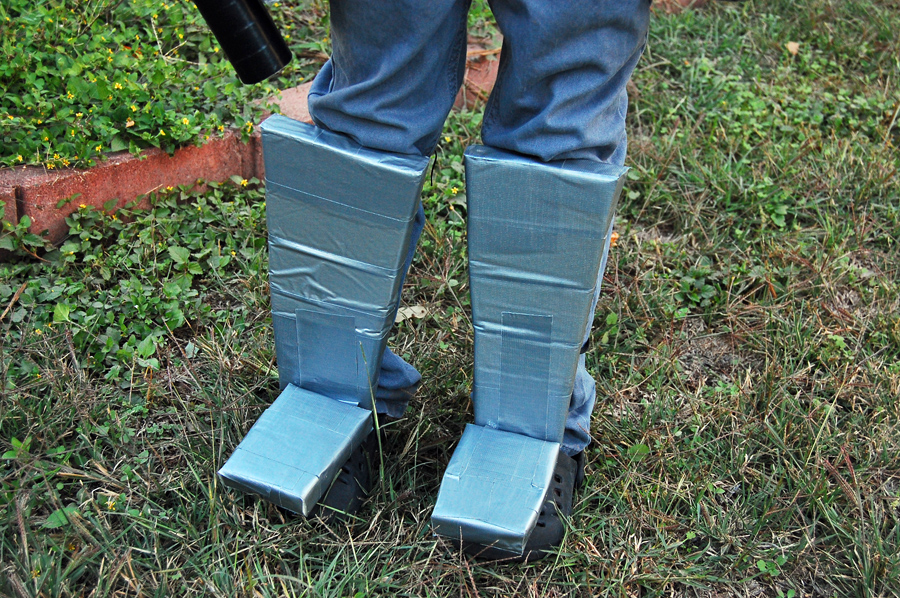 Lastly, I made the helmet.  It is pretty comical looking because of its size but I was using what I had.  We  bought foam years ago for a mattress pad for a baby bed and there was still some left over.  It was 2 inches thick so it made the whole head piece really large.  You could make it much thinner though by just using skinnier foam.  I will write a post about how I made the helmet soon because I actually did take some process shots of that.  The kids love the helmet though and it still gets worn a lot.  There has never been any questioning by them of the size.  I love that about little kids, they don't care that it isn't perfect or exactly like the original.  They are just happy to have something to help them imagine being another person.
And finally, as the base of the costume I bought a gray shirt and pants at Target.  Thankfully, they had both that were plain and so I didn't have to go searching all over the place.  He's worn both at different times already so I'm happy that that money wasn't wasted.
Over all I was very happy with how it came out and thrilled that he loves it so much.  He already started saying he wants to be another transformer next year….uh, I don't know about that.  Even little sister wants to be one too.  So glad we have a year to decide.