The other animal I made as a baby gift over Labor Day weekend was this little elephant.  My husband's cousin and wife are expecting their first little one (a boy) soon.  They actually live in India but are in the States visiting family right now and waiting to have baby boy.  So, when I heard they'd be coming I knew I wanted to give them something special to take back with them to India.  We didn't want to give them anything too big since they'll have to figure out how to pack it back but hopefully this little guy can squeeze into most places.
He is from Abby Glassenberg's second book Stuffed Animals.  It is a great book if you are looking to learn how to construct stuffed animals, draft their patterns, or even just to follow her patterns to make some really cute little guys.  Another plush designer, Mignon Prider, made one herself but added beautiful embroidery to make it look Indian.  So that was my inspiration to try to do something similar but try to keep it as kid friendly as possible.  I made it all in fleece except for the cotton for the ears and the felt tail.  I took my time with the sewing not wanting to make any mistakes.  I had never sewn underbody gussets before but thankfully everything seemed to work the first time.  It was really invigorating to sew something new and complicated looking that came out so well.
I really like how the elephant looks without the tusks or mouth.  In fact, I was so excited to get to this point that I forgot I had sewn tusks and a mouth for it.  I was ready to sew on the blankets and call it a day.  If you wanted to you could leave it just like this and then everything would be machine sewn and strong.  I wanted to show you how it looks with and without the tusks so you can see that it is versatile and can be made just the way you want it.
I did make my ears slightly smaller than the pattern calls for since Indian elephants have smaller ears than African elephants.  I also used safety eyes to give my guy a more awake and happy look than the original.  Abby's elephant has felt eyes and eye lids which make him look sleepy to me.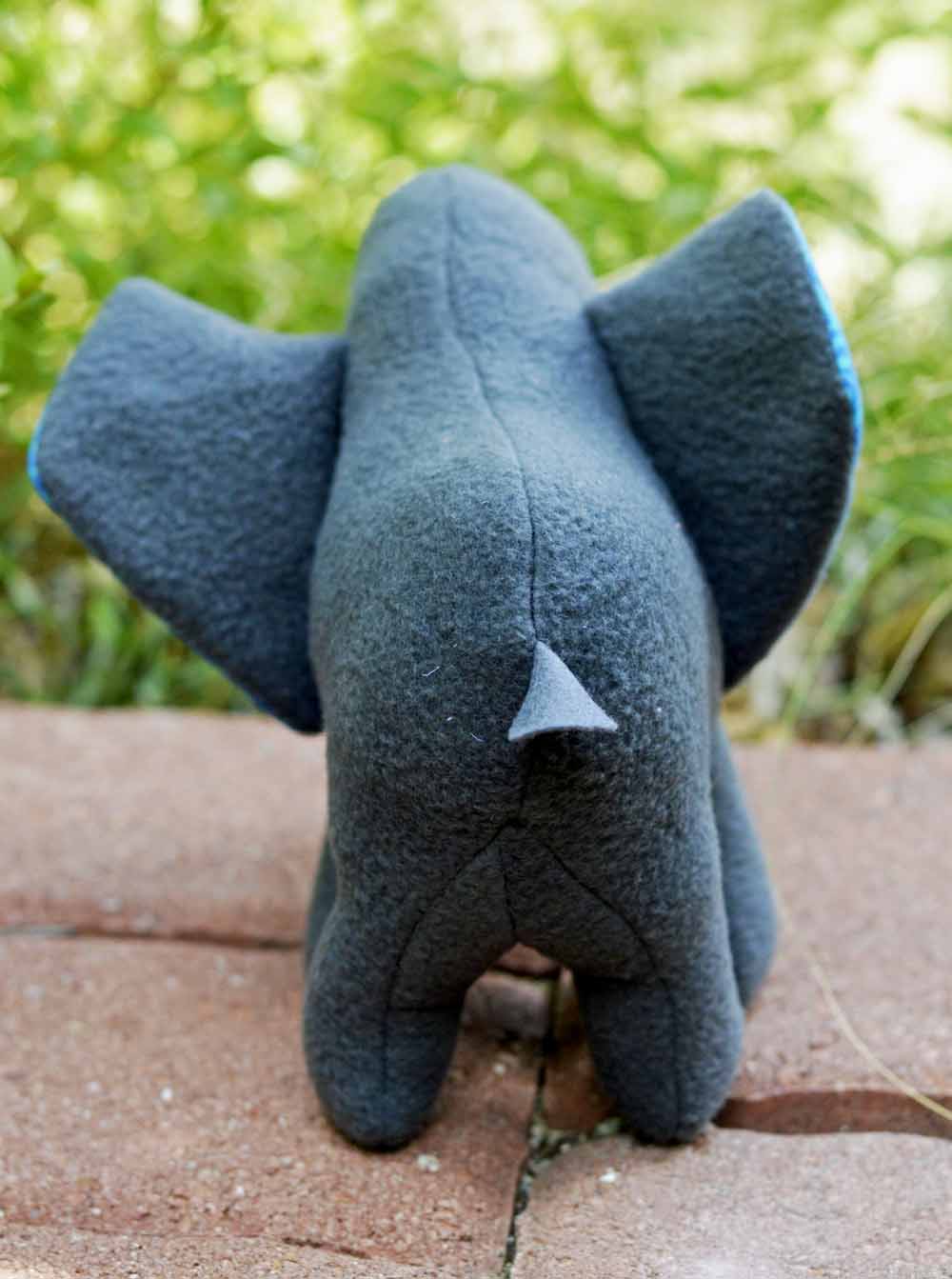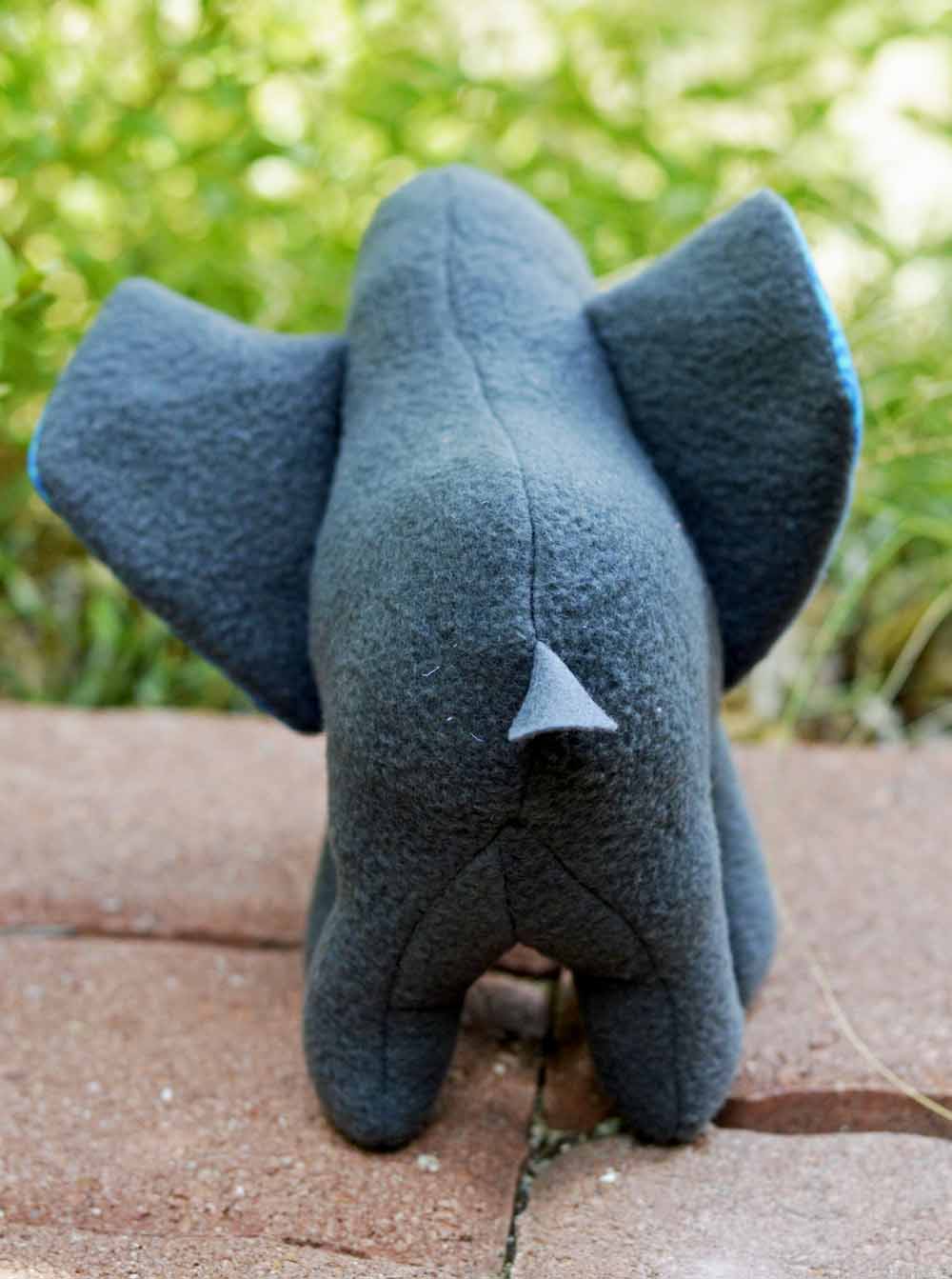 I love that little tail.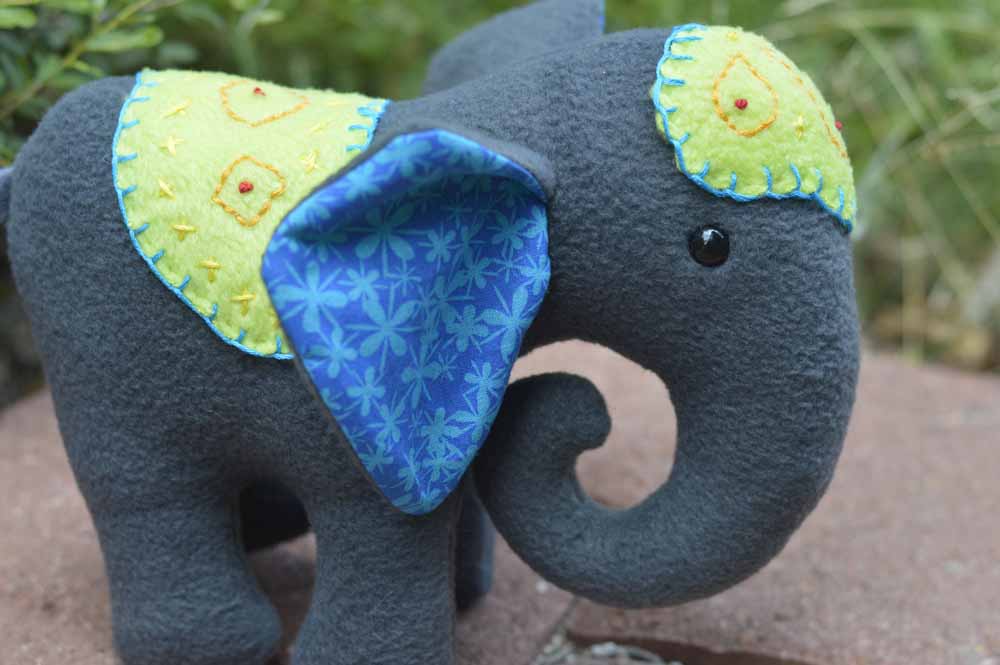 1.  A close up of the blanket on the head  2. The blanket on his back.
I did a blanket stitch around the edges of both.  I have done blanket stitches many times but it is always a long time in between so I usually have to watch a tutorial online to remind me of the steps.  The interior designs I just made up as I went.  I wanted something pretty simple so started with the orange designs and then added the yellow and red.  They are not perfect because I just eyeballed them but I was happy with how they turned out.  I hand sewed the blankets around the edges to attach them to the elephant.  The thread is hidden by the blanket stitch and fluffiness of the fleece.
Finally, I added the tusks and mouth.  I wish I had a picture that showed the mouth better.  I like how the elephant looks with these final details but it was kind of a pain trying to figure out the right placement.  The tusks kept wanting to stick out at different angles.  That was probably the longest part of the process for me was sticking on the tusks.  And it being for a child I wanted to make sure they were sewn on tight but it was awkward at times making that happen without the stitches showing.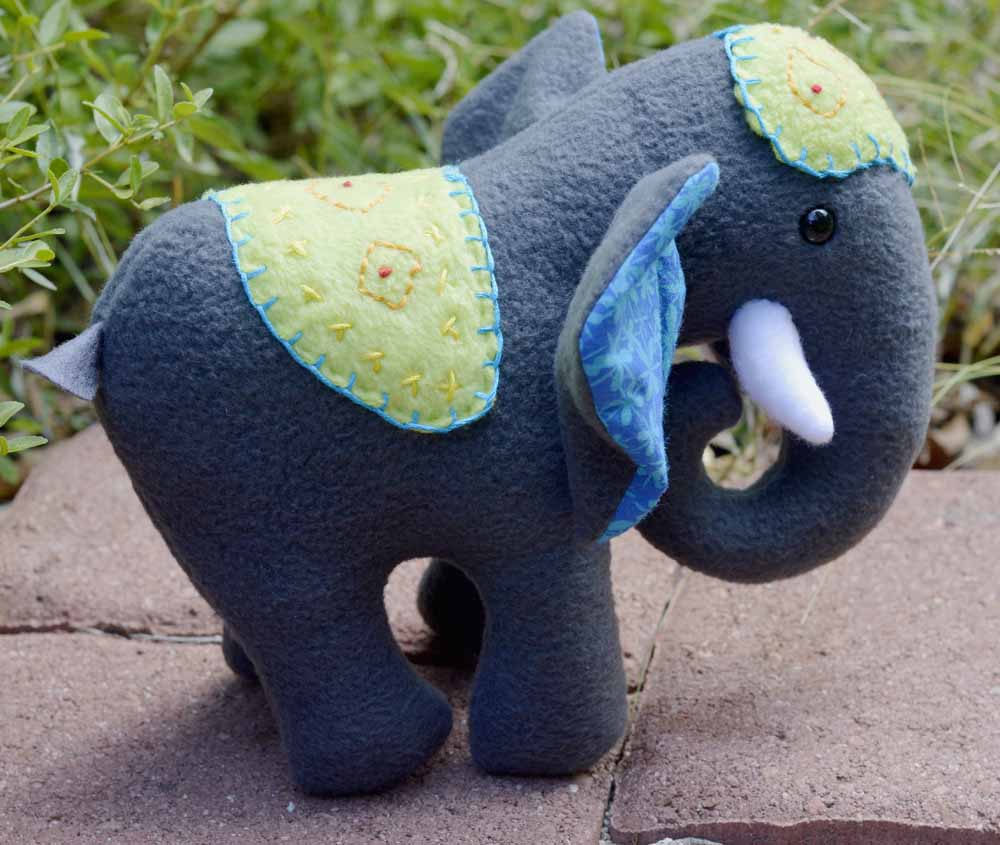 We also gave them one of our favorite baby books, The Happiest Baby on the Block, as a more practical gift.  We have given so many copies of that thing.  But we have found it so helpful.  Thankfully they didn't have a copy yet and actually have a collection of elephant items for baby, so it all worked well!
Have you bought and tried any patterns lately?  From a book or online?  What were your thoughts?  Got any favorites you'd like to share?