Thank you for your patience as I've been setting up shop here in Scotland!
I've been working hard to get my ornaments close to ready so that when they are purchased I can get them shipped quickly.  It has taken me longer than I would like or had planned but I am finally ready to open.
I'll be listing four types of ornaments on Monday, November 2.  I've made about 50 of each kind and when they are gone they are gone.  Normally, I would keep making more but it has been difficult to find supplies in my new homeland so I can't just run out and purchase more supplies when they start to run low and I would like to enjoy my holidays this year instead of furiously sewing the whole time.  Hopefully, this amount will be enough to help most people get what they want.
Pricing has been a subject I've continued to put off thinking about since now I am buying supplies in pounds instead of dollars.  That means if I am buying everything in pounds and then selling them for the same price I have in dollars that I am not making as much.  I hate to penalize my loyal customers who mostly are from North America though just because I moved.  And thankfully, although shipping will be a bit higher for Americans (although less for everyone else) it isn't prohibitively higher.  I need to be fair to myself though.  I mean I'm not in this just to be doing favors for people, this is a business.  But I want to compromise.  So, I will be raising my cost a tiny bit to $22 from $20 try to offset supply costs.  I think of these little ornaments as heirloom gifts, items that can be cherished and passed down but I don't want the prices to be unattainable for most people.  A lot of other ornaments can cost twice as much but I'm not prepared to charge that at this time.
It has felt really good to be sewing lately.  I hadn't done it in so long.  When I moved I reluctantly thought I would probably wait a year to sell ornaments because of the logistics of it.  But I have gotten so many wonderful emails from past customers asking me to make more so I figured out how to make it happen.  Thank you all for your support!
One aspect of these ornaments that many customers have commented on is that because they are soft they can let their little ones hold them or help put them on the tree.  I love that and since I have three young kids of my own I can appreciate it.  We've had to put all our non-breakable ornaments at the bottom of the tree for the last 8 years or so.  Every time one of the kids gets to the age where they know better than to yank the ornaments off or try to eat them I have had another child.  I look forward to the day when that is no longer an issue!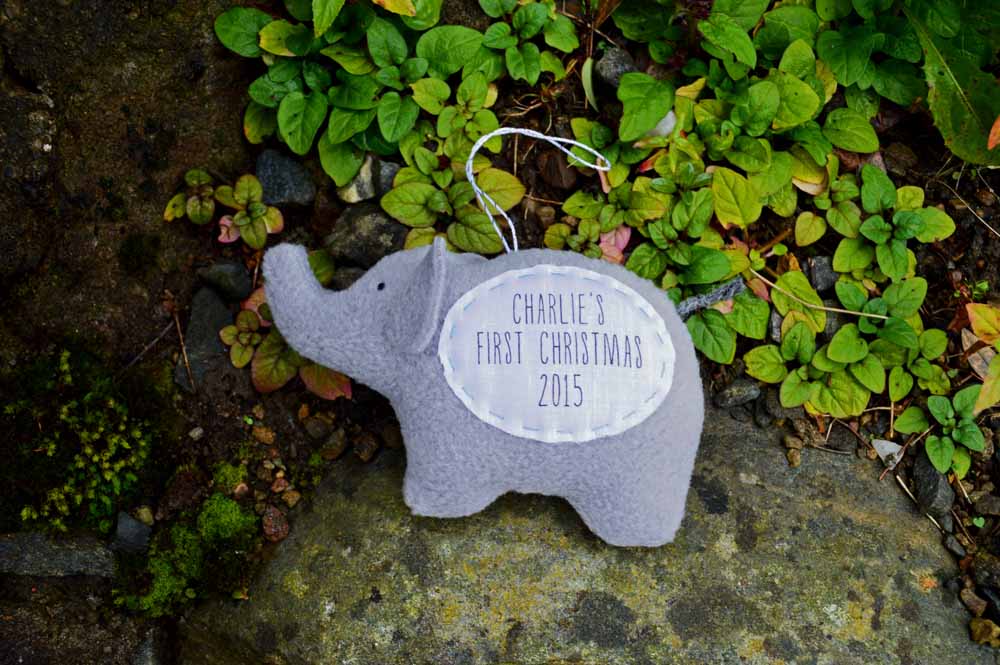 And don't forget, if you are sending it straight to someone as a gift let me know.  I can leave off the money amounts on the invoice and include a gift note from you.  Just tell me what you want the note to say!
So, please come back on Monday to start purchasing your ornament(s).  Remember, they don't have to be for baby's first Christmas.  They can say anything…an inside joke, a name, a family name and year, it's really up to your imagination.  I also have people ask if they can do one from a different year and that is also no problem – no judgements here about back dating first christmas ornaments!  That first year is a doozy.