While we are living in Scotland and so close to everything on this side of the world we want to take advantage of cheaper flights and shorter travel times as our bank account will allow.  In April, we went on a 10 day trip to Italy while the kids had a two week break from school.  I wanted us to visit Rome, Florence, and Venice to see some of the big sites.  We found really cheap tickets in and out of Milan on Easy Jet which wasn't ideal but we made it work.  After all the planning was done I might have done things a little different since the money saved on the plane tickets might have been spent on the extra train travel to and from the airport but, oh well, you live and learn. And what we did worked fine so it was ok.
While researching for the trip I read for countless hours on Fodors forums and other sites to see what others have done and what they recommend.  So I have wanted to write down things that worked for us so it can help others as well.
We flew in and out of the Milan Malpensa airport.  I didn't realise until after I started looking for places to stay that Milan has a few airports and Malpensa is actually about 30 miles from the city.  There is a train you can take from the airport to the central station in the middle of Milan.  If Milan is ever having any type of expo or big event then the cost of their hotels goes way up for those days.  They also tend to be higher during the week when business people commute there for work.
I didn't want our trip to be stressful and push the kids too hard, so I thought it'd be best to sleep one day at the beginning and end of our trip in Milan because our flight was landing around 4 pm in Milan.  We had already driven an hour and a half to the airport in Edinburgh and you have to get there early and then it was a 2 hour flight so even though none of those things is that long when you start to add it all up it would have been too much for us to then take a 30 minute train to Milan and then a 3 hour train to Rome.  It seemed better to just spend the first night there and take our time.  We thought it'd be great if we got to see The Last Supper which is in Milan but found out too late that tickets sell out for it months in advance.  Or at least the cheap ones do.  You can pay a lot for a multi hour tour for Milan that includes The Last Supper but we didn't want to do that.  They only allow you to see it for 15 minutes anyway so we didn't fret too much that it wasn't going to work out.  But if that is something you really want to do, get tickets as quick as you can.  I think you can start getting them about 3 months before the date.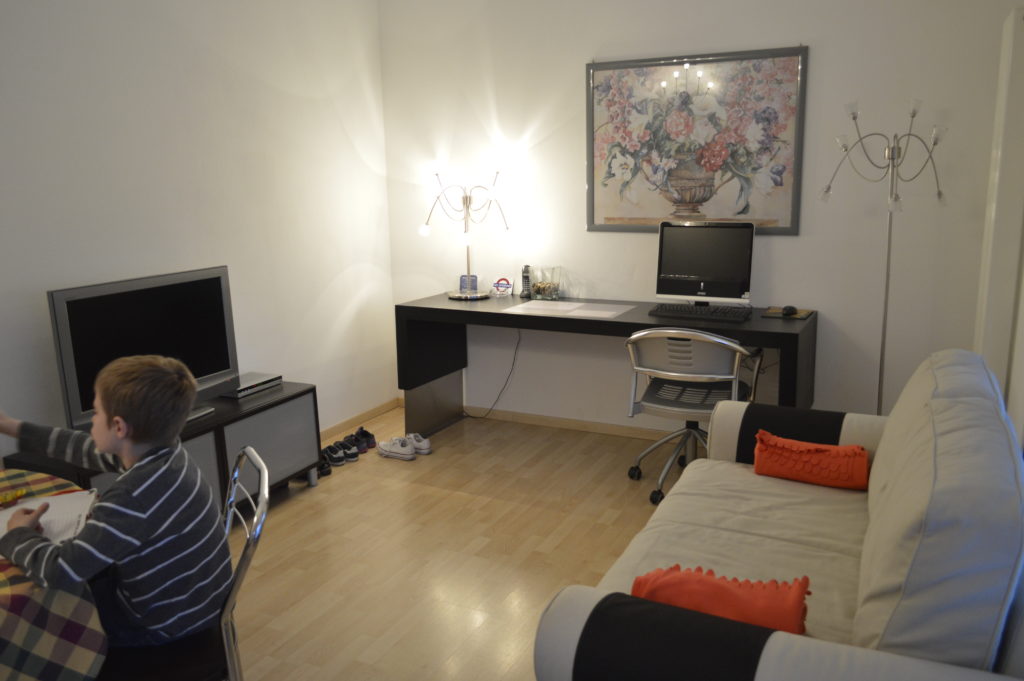 Once I figured out that we really weren't going to be spending any time in Milan and I couldn't find anything we could afford that would fit 5 of us near the train station I started looking closer to the airport.  I found a B&B on booking.com that had wonderful reviews called Il Terrazzo and was 5 miles from the airport.  It has an apartment at the top that had beds for all 5 of us.  For having to "waste" the first and last day of our trip on an extra place this place couldn't have been any better.  To show up tired in a foreign country where the first language isn't English and to have someone waiting outside specifically for you in a van ready to take you to your home is such a luxury.  Mario is so so kind and helpful and couldn't be more accommodating.  Before we got there he helped us figure out the best train station/route to take to save money and time to get from Casorate Sempione to Rome.  He also took us to the near by train station (Gallarate) the next day and also picked us up from it when we returned at the end of our trip.  He was so accommodating and answered all our questions.  The apartment was great because it was roomy and clean and had everything we could need.  There was a good sized balcony and so the kids could enjoy the warmth outside but still be close.  They watched some cartoons in Italian and played with the few toys they brought.  We were pretty worn out from the travel there so instead of eating out Ken walked down the road and ordered us a pizza.  It was huge and good but know that if you ask for pepperoni they will put bell peppers on it.  When we came back at the end of the trip Mario ordered the pizza for us and had it delivered and his wife gave us a cake as well!
Each morning they would bring us breakfast to our place at the time we wanted/needed and it was the traditional Italian breakfast which was rolls, croissants, fruit, yogurt, different things to put on the breads, juice, tea, coffee, etc.  It was perfect.
So, if you need to stay near Milan I cannot recommend Il Terrazzo enough.  Also, because we booked two times for the two different nights Mario gave us a discount which was great.
Oh and with the picture below, it was so cute.  Our oldest son asked Ken why the sink was so low.  Ha!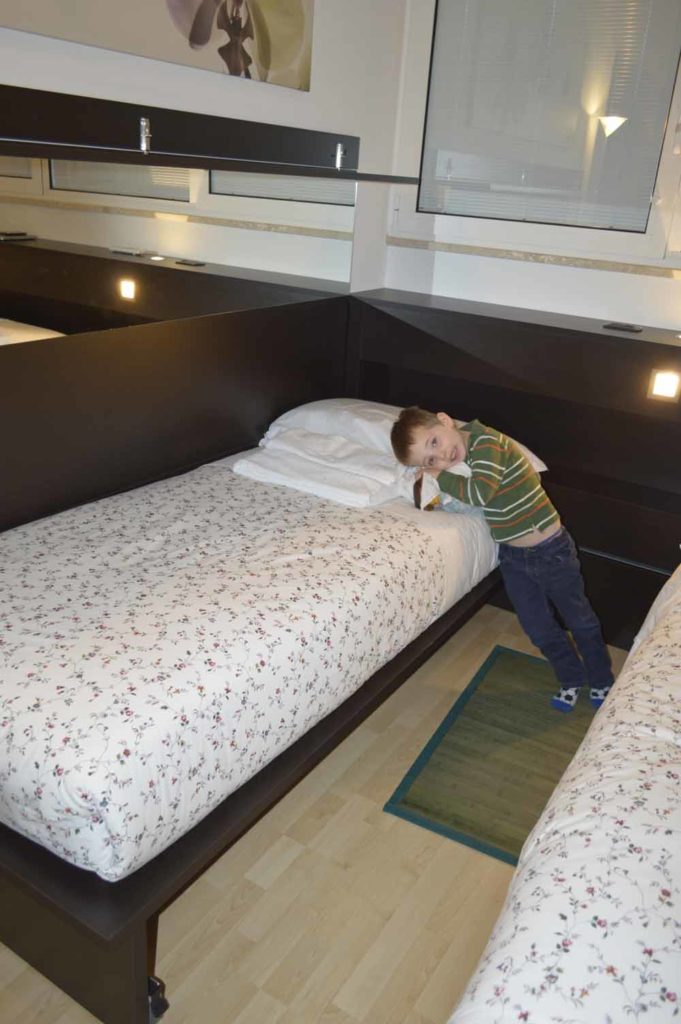 These pictures aren't the best.  It was getting darker outside when I took most of them.  There are better photos on some of the booking sites but this gives an idea of the place.
I'm going to share posts from the three cities we spent our time at (Rome, Florence, and Venice) and also a separate one with public transport information.  Overall it was a wonderful trip and we are so glad we went.  Italy is beautiful and the people are so warm and kind, especially if you have 3 children!