I've got a special video for you today.  It's probably not at all what you'd expect but I wanted to share something very dear to our hearts…our washing machine.  The washing machine in our house plays a lovely, happy tune every time it is done washing to let you know it's finished.  It just makes us so happy to hear it and makes you feel glad to do laundry.  Ha, never thought I'd say that.  All washing machines should play this tune.
Other things:
We just learned last week that children in the primary grades (that's the equivalent of Kinder through 6th grade) don't get grades.  That was a surprise.  I can see positives and negatives with this.
Our baby is turning 3 on Sunday.  Everyone already thinks he's 3 or 4 because he's so tall.  We're doing a small party at our house with just us and our neighbors.  He's been obsessed with Mickey Mouse since before we moved so that'll be the theme.  We got him a radio controlled car that can go in water or land which will be great for our weather and rocky yard.  We also got a pirate Playmobil set and this blue horse.  It is like the Rody horse but it comes with a pump and is cheaper.  The reviews for it were just as good.  I figured it'd be a good way for William to burn off energy in the house when it's yucky outside.  We've also received a lot of cards from family that we're waiting to open on his birthday.  I've been so impressed with how on the ball they've been. We are generally pretty terrible about getting cards out on time and being over here isn't helping.
Here's a random picture from a few weeks ago when the kids wanted to go camping out in our front yard.  Also, they don't say yard here, they say garden.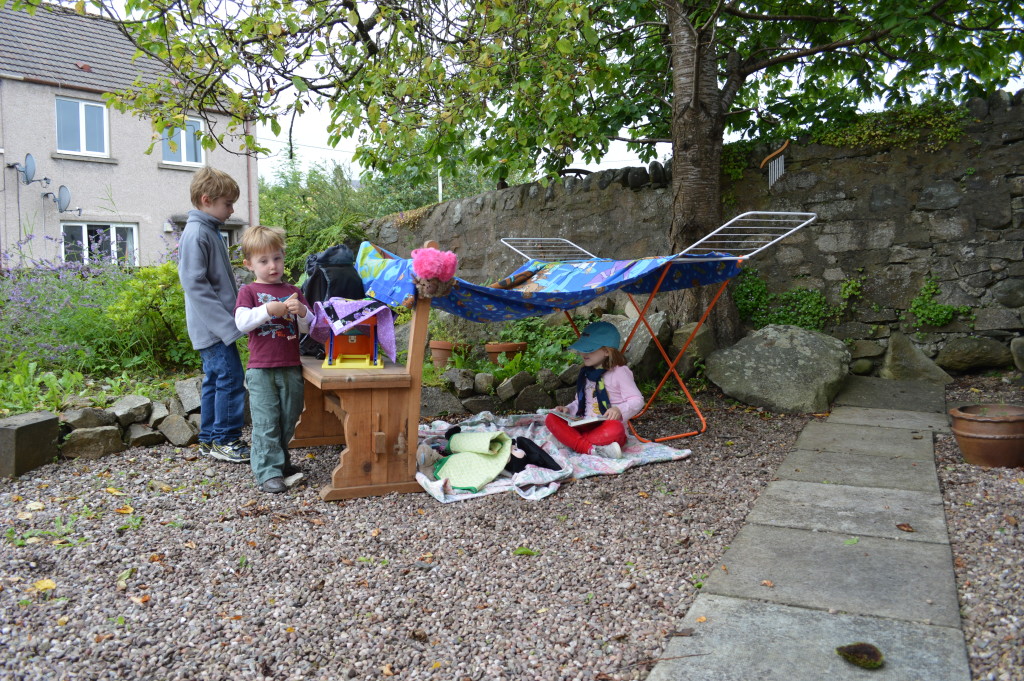 We are hopefully getting a car this week.   We've survived fine without one but it'll be nice to have one for exploring the country or running errands in surrounding towns.  We keep running into issues with figuring out costs though with insurance or the yearly tax they charge based on the type of car/engine it is.  Finding anyone to give us a loan is another story.
We're getting a new boiler in the house today – well, work has started on it.  A plumber came last week.  We thought it would be to get the radiators unstuck and to make the noise in the pipes stop but he told us that the boiler was leaking gases so he turned it off and unplugged it.  It's amazing how not having hot water in the pipes of the house really makes it feel a lot colder.  Thankfully, we have an electric heater in the living room where we spend most of our time and then are warm under our blankets in bed.  Also, we have 2 showers that are electric so the water is heated for them right at the shower and a dishwasher which heats the water as well. So, it's only been a minor inconvenience.  We're so thankful nothing bad happened to us with the leaking gas.  Yikes.
I am planning on doing a food post at some point to show how a lot of the food here comes in tiny packages.  We joke sometimes that it is food for hobbits.   Although generally it seems that is the case more with processed foods than if you are buying meat or fruit or vegetables.  When you buy fruit snacks you get 5 packs to a box at the most.  When you buy microwaveable popcorn you get 3 packs to a box at most.  When you have 3 kids or a group coming over it makes you have to order a lot more.
I made my computer be in British mode to make some things more convenient but spell check changes my words to British spellings when I don't want it to.  If I'm talking to an American then I want American spelling.  Also, the calendars (called a diary) here go from Monday to Sunday which throws me off at times.
One more picture.  The highland games happened a couple of weekends ago and it rained the whole day and was really cold. We tried to adventure out into it since it only happens once a year but after a couple of hours the kids were miserable.  Actually, they were before then but we could no longer handle it anymore.  This picture is from our walk back home.  All the pipe bands were parading down to the event.  I felt so bad for everyone competing that day.  They were such troopers.  We enjoyed our two youngest screaming pretty much the entire walk home. But we picked up some meat pies at the butcher on the way home and put warm, dry clothes on and had a nice hot lunch in front of our electric fireplace.  Hopefully next year the weather will be nice for it.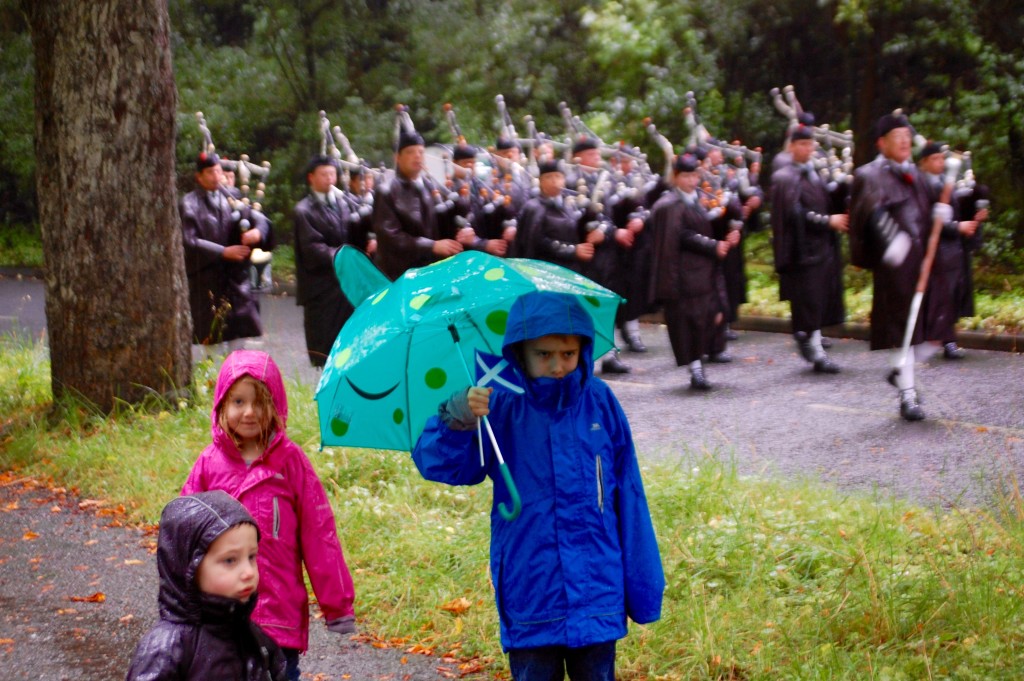 Well, just some random thoughts and updates.
I almost forgot!  I have been cutting my fabric for my ornaments and have just been waiting for the string to come in to start sewing and it just came through the door!  I also just got the bags for my ornaments yesterday.  It's fun to be getting in all the supplies.  I still need to order tags and business cards but haven't decided on a printer yet.  And then mailing supplies but that shouldn't be difficult.  Hope you are all having a nice week!