After our night in Casorate Sempione, near Milan, we took 2 trains down to Rome.  I'll share more about the process of train travelling in another post.  We spent the most nights in Rome so this will be the longest post and has a ton of pictures.  So I apologize for it being long.
Since we spent 4 nights in Rome the best deal for us ended up being to stay in an apartment.  I had preferred us to take a van taxi to the apartment so it'd be quick and we wouldn't get lost but Ken convinced me to try taking a bus.  It made the process take longer and was a bit more confusing and we definitely got turned around for a few minutes after the bus stop but we managed to find it in the end.  (I think it is worth paying a bit more for the taxi for the speed and convenience.  Just make sure you get an official white taxi so you don't get scammed. But there are apps to help you figure out which bus you need for which stops if you want to use them.)  There was a man waiting there for us and he showed us around, answered questions, gave us the keys, etc.  After that we explored the area a bit and got the kids some gelato.
We have a dear friend and honorary member of the family, Candace, who was living in Spain and was moving back to Texas a couple weeks later and she had a few extra days to do some travelling before she left.  So spontaneously a couple days before our trip we started talking about her coming to Italy too.  She ended up flying down and spending the days in Rome with us and it was such a joy to have her.  Not only do we just really like her and were happy to see her again before she left this side of the world but it was so awesome having someone else to help with the kids in such a big, busy city.  So, you'll be seeing pictures of her down below with us.  Having another adult with us, who is easy to travel with had so many advantages.  We had an equal adult to child ratio, a couple of the evenings when my feet were killing me she was able to walk with Ken and help get some food for us to eat, take pictures of us at places so we actually got some pictures of all of us together, and since she is fluent in Spanish could help translate the Italian.  Now, I have to say that not just anyone could have joined us and lightened the burden. Some people if they are a different temperament or not as independent or familiar with traveling can make things more stressful.  Thankfully she is someone who makes things easier instead of more complicated.
Okay, so the next day we woke up, ate breakfast in the apartment and walked over to the Vatican. I wouldn't have necessarily chosen for that to be the first thing we did but we were in town for Friday, Saturday, and Sunday as our full days.  It is closed on Sunday and would be even busier on Saturday, so Friday became the choice.  I had researched so much about what was the best way to do this and was hoping that what I had read would work out because I was going against a lot of advice.  You will read that the lines to the Vatican museums are really long and you need to pre-book them and then you might get lucky and be able to go out "the wrong" door to take the short path to St. Peter's but it seemed that was something that was monitored more now and was unlikely to happen.  I had read that if you went to the museums in the afternoon there was no need for a pre-booked pass (which saves a little money and you don't have to be there at a specified time) and so we did it in the reverse order of many.  We started our day at St. Peter's and got in line immediately for the dome.  We paid the extra to take the elevator up to skip the first steps and it was worth the money in my opinion knowing that we'd be walking all day and wanted to save our feet as much as possible, especially with little kids.  Since we got there early there really was no line which was perfect and as we left close to noon the line was huge.  So, we really did great in that way.  The climb was challenging but not nearly as bad as people made it sound and although it does get small it wasn't as claustrophobic as people had said either.  The kids did great and the view was amazing.  Thankfully we were there in the spring when it wasn't too hot.  I can see how if you were doing that when it was really hot it would be harder, especially with even bigger crowds.  And as I had been warned in other readings, just pass by all the people out front who try to offer guided tours and promise skipping the lines.
We borrowed this carrier from a friend and it was worth its weight in gold on the trip.  This isn't Disney World which is stroller friendly.  We did see people pushing them around but with the cobble stones, the steps everywhere, and not being to just leave it if you're going up to the dome, etc it just didn't make sense to use one.  It would have been very difficult for William to climb the steps all the way to the top and even harder for him to come down them since it is steep. He actually just climbed the 246 steps up the Wallace Monument in Stirling the other day but it took forever to come down with him since he was nervous about falling.
The two big kids each have a little kid digital camera that they've had a few years and it was great for them to have them on the trip.  I knew that this would be our longest un-kid friendly day but had gotten good advice to let the kids take pictures of things to make the museums more interesting for them.  It seemed to work well.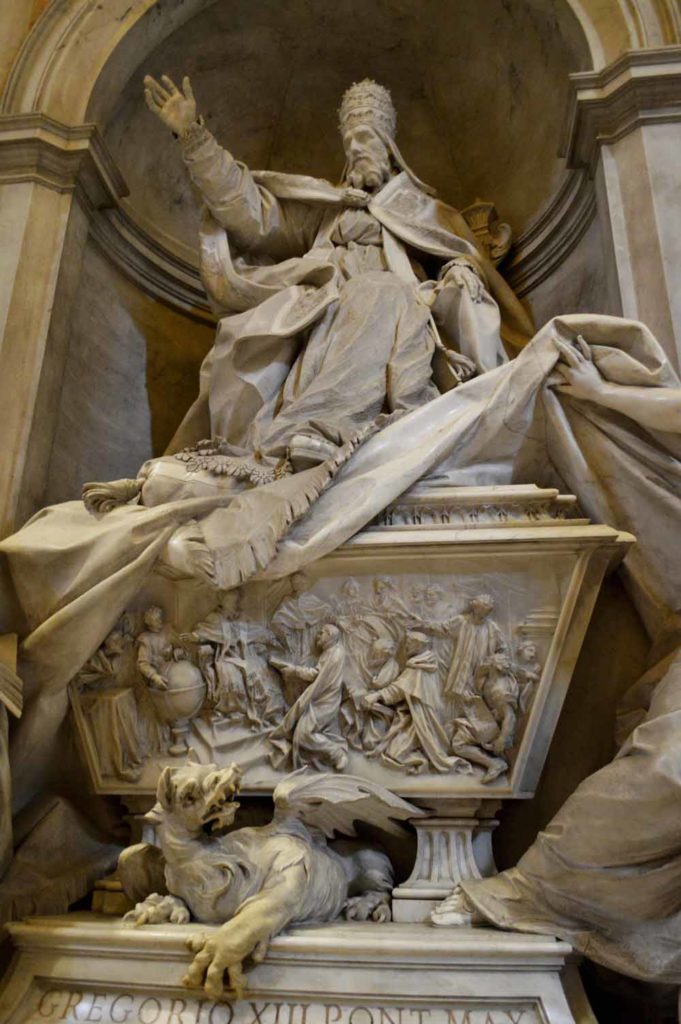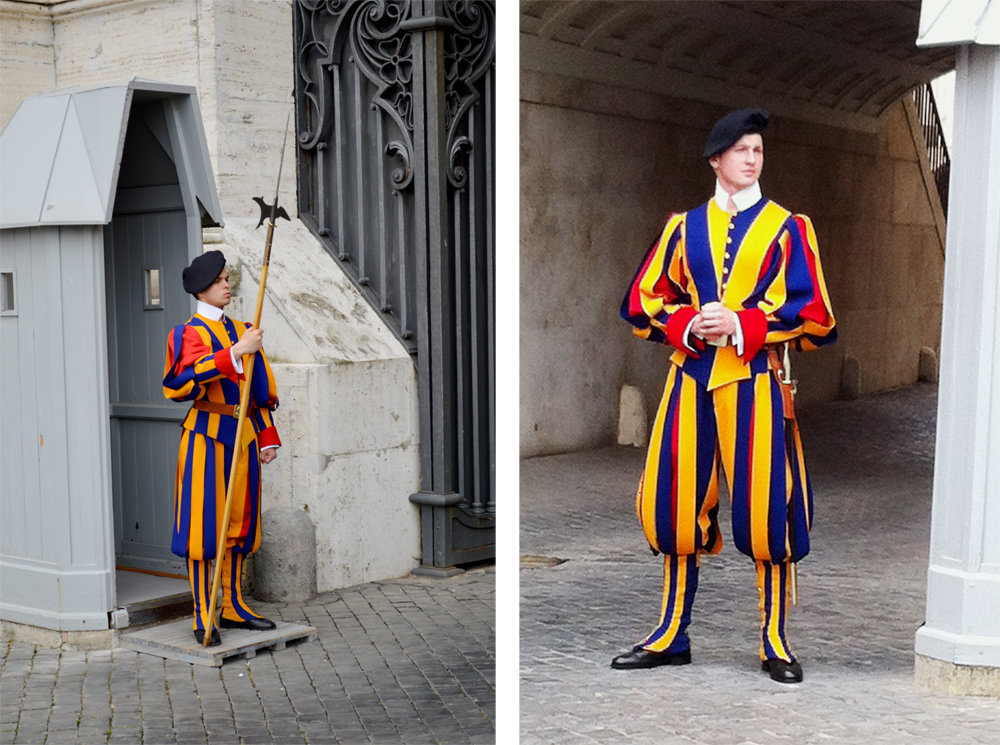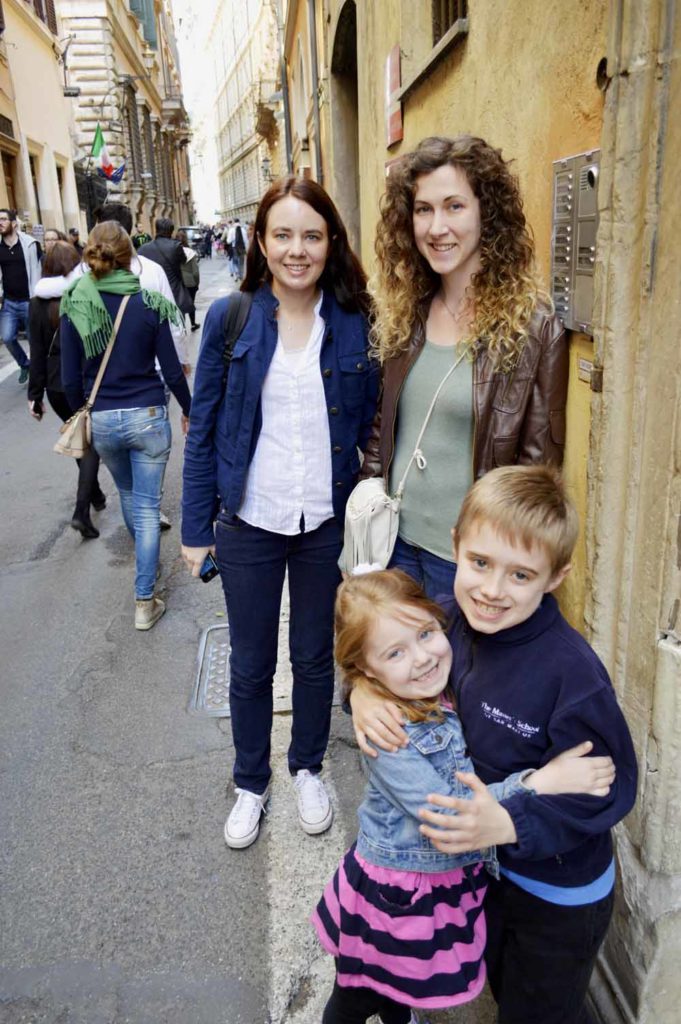 After we left St. Peter's we had to walk around the walls of the vatican to get to the entrance to the museums.  And we stumbled upon this little pizza place.  It didn't have a name that I could find outside so I can't easily recommend it but it had signs about Rick Steve's liking it so maybe it's mentioned in one of his books.  The pizza was good and cheap.  It was also a nice, fast way to eat so we could continue on our way to the museums. 
There was a mirror on the wall behind us which allowed Ken to get this fun picture below.
I was nervous whether or not I had made the right decision about not pre-booking the museum since paying a few more Euros would be worth it if it saves you an hour or more of waiting in line when you have 3 kids and will be walking for hours through the museums.  But I'm glad we didn't because we were able to walk right in and get tickets.  I had read that it wasn't as busy in the afternoon and that proved to be true – although don't get me wrong, it was really busy!
The whole place was packed with people and it makes you a bit like cattle going through. We knew that we'd have so much to see before getting to the sistine chapel so we mostly did a walk by of everything.  We didn't spend long looking at any one particular thing.  If so we would have used up all our energy on that and never made it out.  I was overwhelmed by how much was there and it really felt like I was visiting a hoarder who happens to have a big place to put it all.  I'm glad all those pieces of art are saved somewhere but it was just SO much.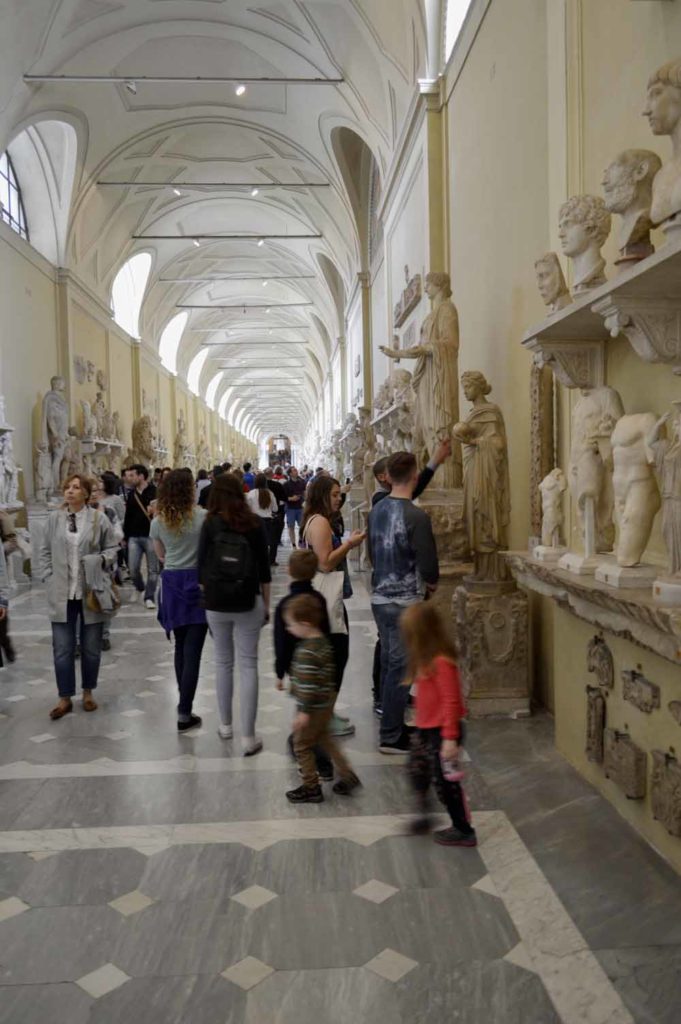 We were of course excited about seeing the Sistine Chapel but there were so many amazing ceilings in there that were just as magnificent.
Pretty much every floor was covered in gorgeous mosaics.  You really could spend so much time there looking at every detail and still miss something.
There was an Egyptian section which was cool and seemed a bit random with the other items.  The kids enjoyed it a lot.
Towards the end you can either cut out the last chunk of the museum and go straight to the Sistine Chapel or continue on.  We almost skipped it because it had already been long and we were tired but I had heard so many people say the Raphael rooms were amazing so I hated to miss it.  So, we went the long way and part of that includes going through a modern art section.  By that point I was so zombie like that I totally walked right past some paintings by Salvador Dali.  If Candace hadn't called me back I would never have noticed them.
There is also a section that has art from Matisse which was nice.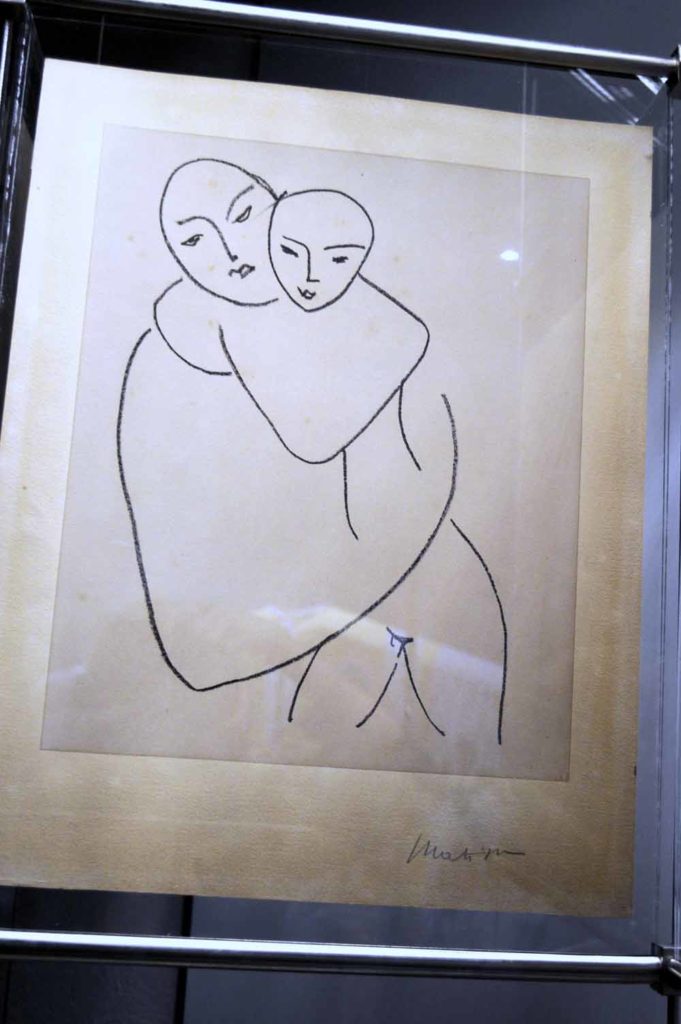 You are not allowed to take any photos in the Sistine Chapel.  It's kind of an unexpected reason why if you'd like to read about it.  There are workers who yell, "no photos", and "no talking" which breaks up the atmosphere of trying to take it all in.  It was really great to see and pretty amazing to be in this room that I have learned about for so long.  Of course not getting to see it until the very end made it difficult since I was really worn out by that point.  And it is hard to look up at it for long since it hurts your neck.  But it is totally worth seeing and a masterpiece.
I would definitely recommend going to both the Vatican Museums and St. Peter's Basilica.  They are truly amazing places to see and hold so much history.  The kids did really, really well considering how much walking we did.  There were some tapestries that showed babies being slaughtered from the story of Moses I believe and even though I had heard there was art like that I was expecting it to be paintings and my daughter saw it before I did and was pretty upset by it.  So, we walked past that part really quickly and I had her look at the tapestries on the other side.  We also tried to point out different animals or cool things we saw and ask the kids about things they saw and just try to keep it interesting for them. The cameras proved to be really helpful in keeping them engaged and giving them some sense of control over what they were doing.  The pictures on those little cameras aren't very good but it was really more about the process than the product.
On the way back to the apartment we got some gelato at the one place we always got it in Rome and it was the best we had in Italy.  And then later that night we went out for dinner at Bernini Ristorante recommended by the man who let us into the apartment.  It was right on the Piazza Navona which I think inflated it's prices a bit but the waiter we had was so nice and ended up giving us appetizers for free and dessert as well!
The next day was Saturday and it was our day to see the Colosseum, Roman Forum, Palatine Hill, and Mouth of Truth.  It was the group of things that was farthest from where we stayed.  It took probably around 45 minutes to walk there.
The first thing on our route was the Bocca della Verita or Mouth of Truth.  It's believed to be part of a fountain or a drain cover but legend says that if you tell a lie while your hand is in it it'll bite your hand off.  Thankfully we all left with our hands attached.
It surprised me but it's actually on the wall of a covered porch of an old church.  They have the front of the porch lined with a metal fence or wall.  It wasn't how I imagined it to be.  So, because we got there in the morning there was a big crowd and we probably waited half an hour. Of course one of the kids had to use the bathroom and I don't remember if we ever did find a place or if we made them wait.  We checked and the church didn't have a toilet.  Anyway, I'm sure if we came at another time it might not have been so long but this kept us from backtracking.  To help keep the line moving they tell people to only take one photo per person.  So, our time up at the mouth felt very rushed and short but it was fun none the less.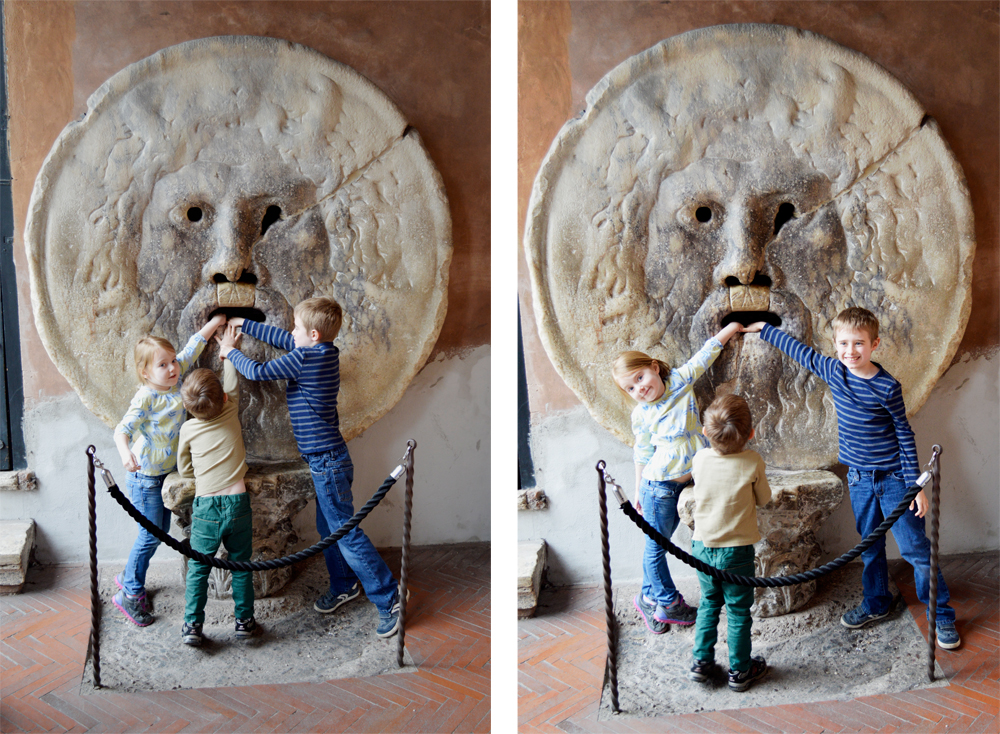 On our way to the Palatine Hill we walked through Circus Maximus which is where they used to have chariot races.  It was windy but a great place for the kids to be able to run.  One of them did end up falling and skinning something in the rocks but they survived.  It is nice how everything is relatively close together.
This was when we were approaching the Palatine Hill which is next to Circus Maximus.  We chose to start with that first and then do the Roman Forum and end with the Colosseum because I had read that there can be long lines at the Colosseum but not at the Palatine Hill.  It also lets you travel down hill and when you get to the exit of the Roman Forum you are near the entrance of the Colosseum which is very convenient.  I definitely always tried to be as strategic as possible with our walking.
We actually bought the tickets and then asked where we could eat lunch.  There was nothing that close but we found a little pizza place that would have been ok but the kids weren't behaving and we were sitting outside and we were unprepared with how chilly it would be.  I really couldn't wait to be done with lunch.
This kind of looks like all the kids need to go to the bathroom.  ha.
We really missed a lot of what the history of the place was but again, there was so much to see and you could spend a really long time at each of the 3 locations.  We enjoyed just walking around.  Candace had downloaded some free audio tours from Rick Steves but we kind of forgot about them and it would have been difficult for us to all listen to it without bothering others.  I've heard they are really good though.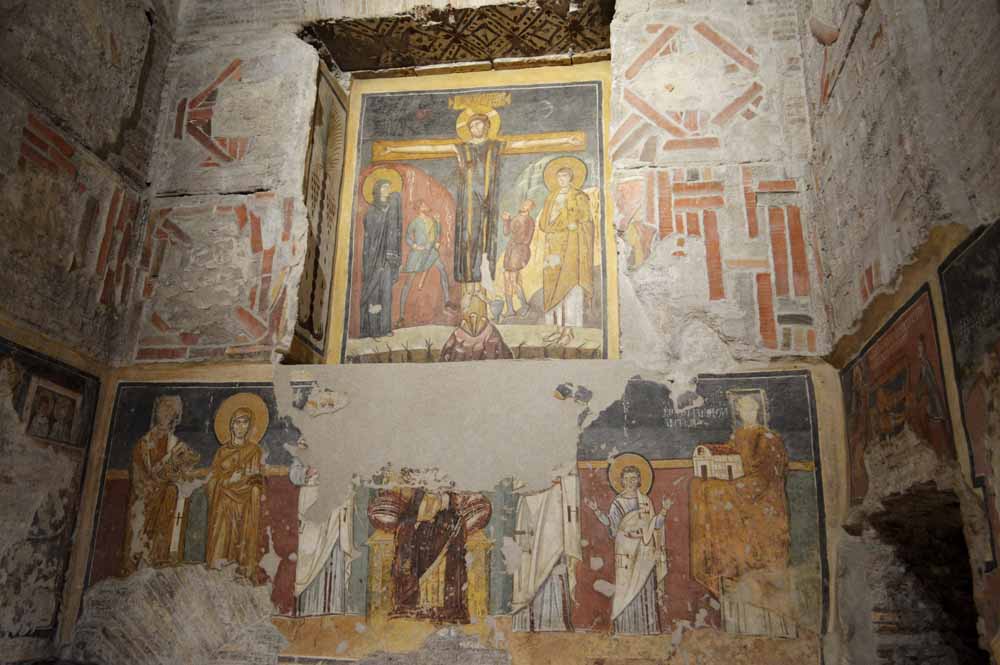 This was the spot where we got out of the Roman Forum area and walked to the Colosseum.
The flat part down below is where the floor would have been and everything down below it is where the animals were kept.  They could raise them up through the floor.  I wish we could have done one of the tours that takes you down there but they were all sold out by the time we looked into it.  But really by the time we got there we were really tired from all the walking we had already done and so it was ok to not be listening to a tour guide and just to wander around.  It is still an amazing place to see.  After seeing it so much in pictures it is pretty unreal to be standing in it.
One of the items we bought as a souvenir is a book that has pictures of what sites around Rome look like today and then there is an overlay that then shows how it would have looked originally.  It isn't cheap (around 18 euros I think at the Colosseum gift shop, although we saw it other places too) but it was great for the children to look at and understand what they were seeing.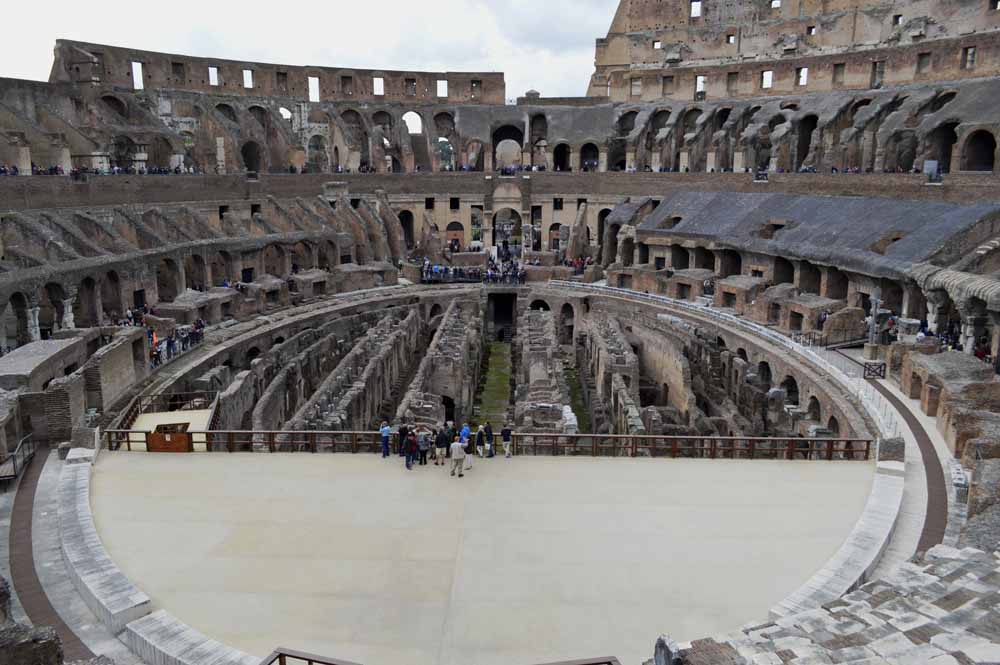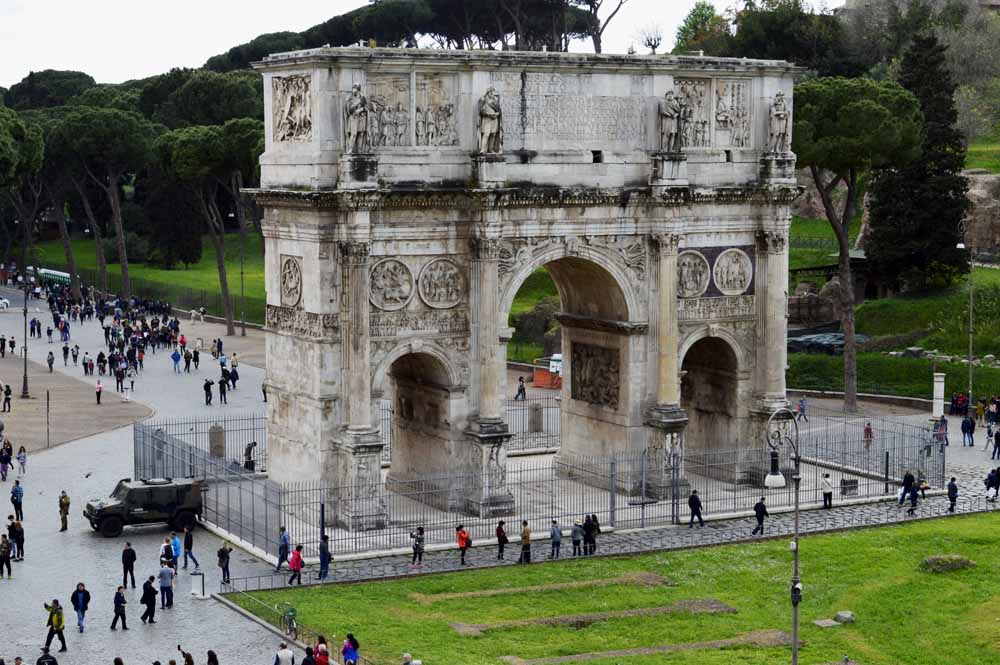 The next day was Sunday and so we thought it'd be cool to see how they do church in Rome.  We found Rome Baptist Church online and their morning service is in English.  They are an international church so all throughout the week they have classes and services in different languages.  It was nice to go there and the people were very friendly and kind.  It also worked well because it was near the other section of town we still needed to see.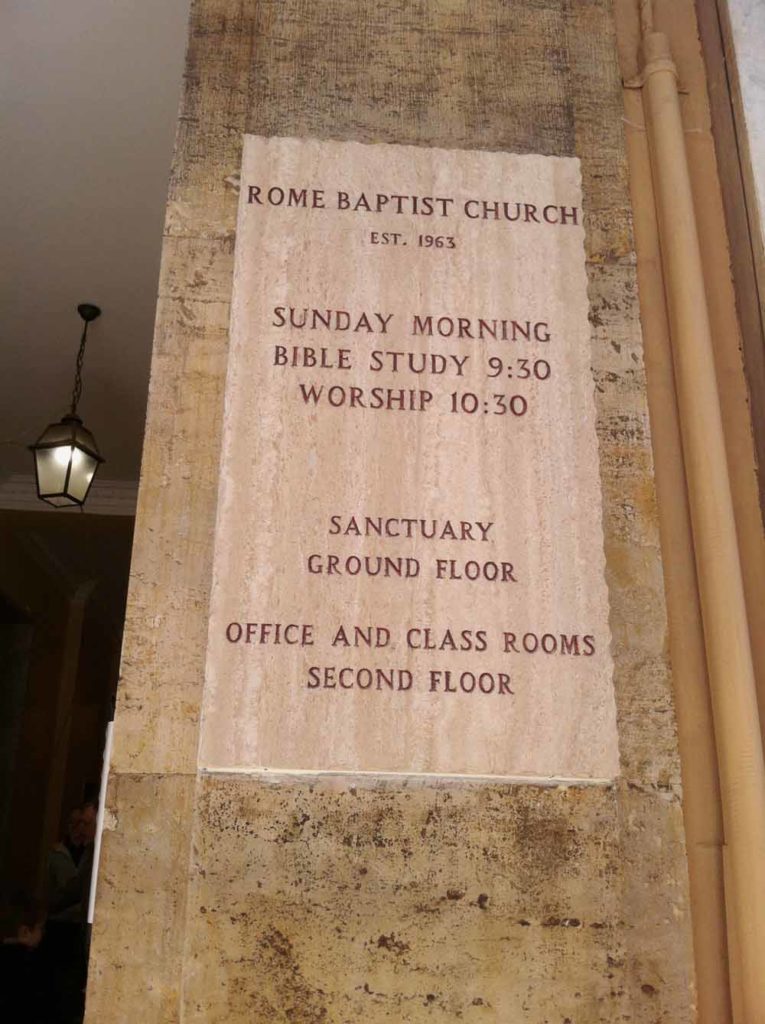 I had found the name of a cheaper restaurant in a Lonely Planet guide that was close to the church and the Pantheon and so we ate there.  We made it in right before the big lunch rush.  It was a nice meal and cheaper than a lot of places we saw.
The first thing that hit us when we first turned a corner and came up to the Pantheon is just how taken aback you are with it's huge size.  We just hadn't imagined it to be that big.
We stopped at the store Bartolucci and bought a couple little wooden items.  It was a fun shop to see and the kids really enjoyed taking these pictures.  Our youngest loves Pinnochio so he kept yelling out his name every time he'd see one.
We went to the Trevi Fountain and I hadn't realised that it was in such a small area.  I expected it to be on a big piazza but it was so crowded with people.  We had to push our way to it.  We gave the kids and Candace coins to throw in insuring that one day they'll be back.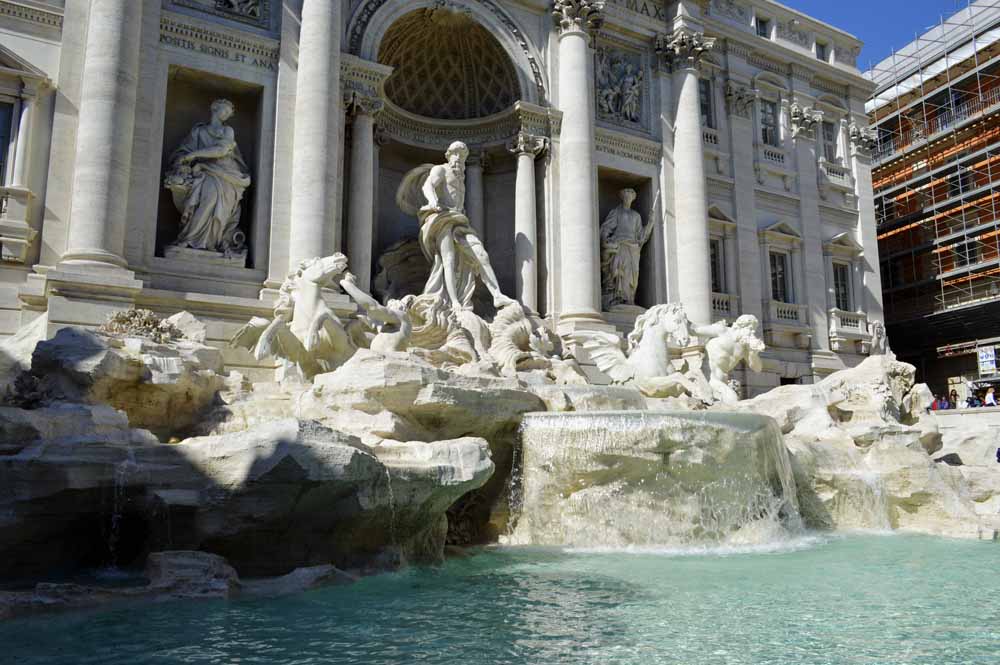 The Spanish Steps were closed off.  There was a big marathon through Rome that morning and so it looked to be because of that.  So our stop there was brief.  Candace and I tried to drink from the fountain at the front of the picture as others were doing.  It was harder than it looked.
The last thing we did which took forever was to look for the cat sanctuary.  The problem was that it is in a different place than I was remembering.  And we asked every local we could find including guards as we walked and none of them had any clue what we were talking about.  I knew I wasn't crazy and so finally we found an English bookstore and I looked it up in a guide and we found it.  It's located at the site where it is believed that Julius Caesar was killed.  I thought you could go down in the ruins but you have to just watch from the side.
Thankfully Candace's phone worked really well for maps so she could lead the way.  We were going to get sim cards there but the ones we use in the UK had a pretty cheap plan for using them in another country so we just did that.
There was a part where you could go down into where they care for the cats.  It was fun to see them but it also smelled.
This is the famous last picture before that cat attacked him.  I wasn't even watching him (Ken took this photo) but apparently he was being gentle, he just ended up with a cat in a bad mood.  I was really nervous that he'd get infected or some disease.  All I had on me was some hand sanitizer and even though I'm sure it stung I put some on his cuts (I think the cat bit and scratched him) to help kill anything.  It ended up healing quickly and there was never any infection.  It was comforting to know that all the cats have vaccines and are well cared for.
It was kind of a game of where's Waldo looking for all the cats hiding amongst the ruins.
This is the gelato place we ate at every day.  There was always a line and had lots of locals so you know it was good.  The gelato is made there and you got 2 scoops for 2 euros and they would either dip it in chocolate which would harden or they would put whipped cream on it for no extra charge.  Such a good deal!
Gelato was the main thing that made not having extra clothes difficult.  After the first couple days I made sure to bring wet wipes with us since the tiny napkins you get don't do much and don't get the sticky off of fingers.  Giving the big kids spoons helped them eat their cones with less mess.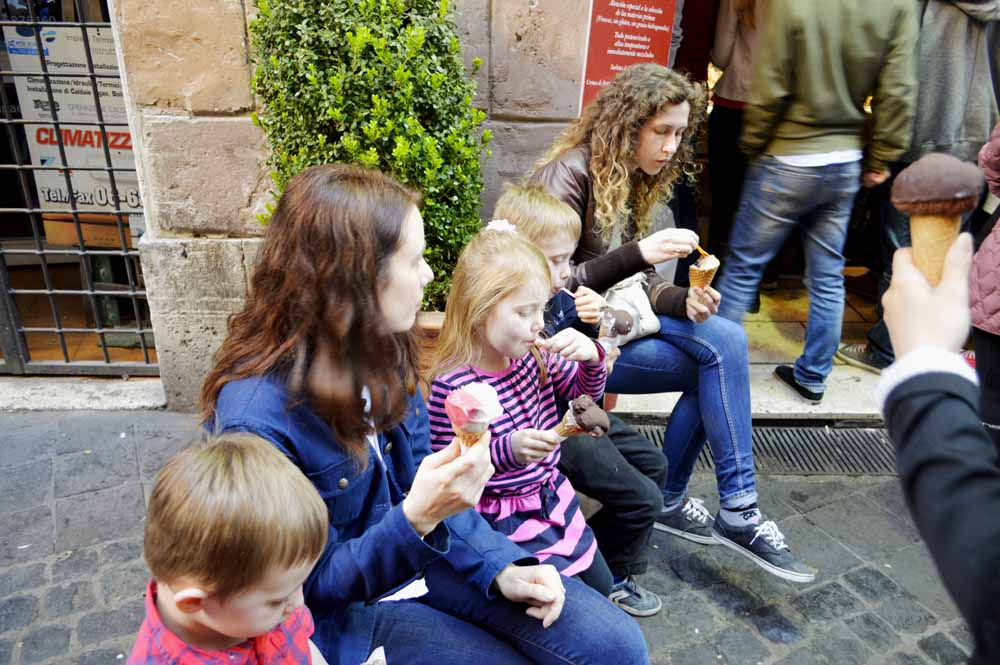 Finally, here is the apartment we stayed in.  It was so nice!  I was confused when we first got there because it looked different than it did online and had a different name but after looking back at the listing I realized they had repainted and redecorated it.  I found it on the site Friendly Rentals which after looking at countless places for days/weeks I couldn't believe I had found a place that wasn't priced too badly and didn't have extra hidden fees etc like so many other places.  The apartment was huge and in a good location.  I wanted something in the Piazza Navona area so we'd be close to all the sites and it worked out well.
The last morning we woke, ate breakfast, and cleaned and packed.  We walked down to a nearby bus stop and took a bus back to the train station.  Wow, that bus got packed.  It was laughable how tightly squeezed we were in there.  I thought the doors wouldn't be able to close but whoever designed it was very smart.  I finally understood why some buses are notorious for pick pocketing.  It would be so easy in a crammed situation like that.
That was a lot of info but I wanted to get it all down in one spot.  The posts about Florence and Venice won't be that long.
Rome is a great city and much easier to get around in that I had expected.  I had also heard from many about pick pockets so I was really paranoid the whole trip.  But we never had any troubles of any kind.  Just like any big city if you are careful with your belongings and aware of your surroundings you should be fine.
The city is so full of history you could continue to go back and see new things.  I highly recommend going if you ever have the chance.  It was great being able to share the city with our kids and they still talk about the things we saw and did.